Coronado Coffee Favorites to Kick Start Your Day
Infuse your stay with 6 coffee shops that kick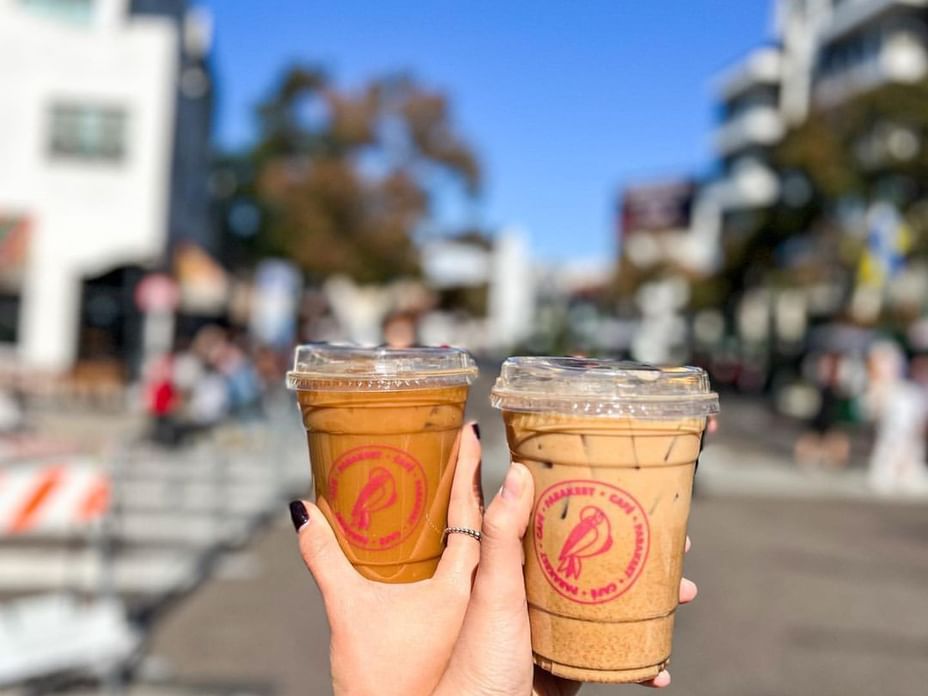 So you're ready to venture out, and you want a caffeine kick with a cool island vibe. We've got the list for you! Here are our top picks for coffees that are more than a cuppa joe—they are experiences worth savoring. From retro diners, to Vet-owned keto-baked treats; from locally-roasted beans to spice-infused wellness drinks; from specialty chocolate mochas to the "OG Coffee Crew," you'll likely find a new favorite spot on this list, one you'll call "my place" for every return trip to Coronado.
The island is pedestrian-friendly, so we're sharing distances for your drive or stroll. We've organized this by proximity to the hotel, and as you can see, coffee perks are very close, just a few steps from our door. Here are our favorite recommendations:

Clayton's Bakery and Bistro | 2-minute drive, 6-minute walk
This historic, celebrated 1940s diner has a vintage feel with red accents and countertop jukeboxes. Heavy pours and drip coffee by Café Moto, made locally, keep locals coming back again and again. Try the cinnamon honey latte, the dirty chai, or the caramel macchiato.
979 Orange Ave, Coronado, California 92118 | (619) 435-5425 | claytonscoffeeshop.com
Bistro open daily from 7am to 4pm
Coffee shop open Wednesday thru Saturday from 5am to 9pm
and Sunday thru Tuesday from 5am to 2pm

Parakeet Coronado Café & Juicery | 3-minute drive, 4-minute walk
Parakeet serves fresh, healthy food in a fun atmosphere. Parakeet is known for wellness lattes, like the turmeric latte, which includes warm milk without the espresso. For a caffeine fix, try the salted maple latte. Try the nitro cold brew for a creamier, sweeter treat. The coffee is roasted locally, and most of the house-made syrups are made free of refined sugar.
1134 Orange Ave, Coronado, California 92118 | (619) 675-7731 | parakeetcafe.com
Open daily from 7am to 7pm

Trident Coffee | 3-minute drive, 8-min walk
The veteran-founded company specializes in nitro cold brews, and its keto bakery has gluten-free, dairy-free, sugar-free options made in-house. Canned cold brews and baked keto donuts (a no sugar, low carb, high protein fuel) are great for on-the-go. Try Damn the Torpedos, a dark roast with a bold flavor, or Son of a Sailor light roast with cinnamon notes—both cold brews on tap, or served hot upon request. In fact, stay for an entire flight of coffees, or try 1-ounce samples on the house.
942 Orange Ave, Coronado, CA 92118 | (619) 509-7118 | tridentcoffee.com
Open Monday thru Sunday from 7am to 4pm

Coronado Coffee Co. | 5-minute drive, 26-minute walk
Luis Madrid, the owner, and Jason Wes, the "everything else," have worked in specialty coffee on Coronado for nearly thirty years. Having started the first-ever coffee cart in Coronado when they were in high school, some call them the "OG Coffee Crew." They are known for creating great coffee and a welcoming, hometown atmosphere. The coffee stand also has very fast service, convenient parking, a great view at ferry landing—and you can watch Luis and Jason argue.
Coronado Coffee Co is well-known for Mexican mocha with authentic chocolate from Mexico. The honey butter latte is made with honey butter from Little Piggies, the neighboring restaurant that Luis also owns. Daily coffee specials bring new coffees to try each visit.
1201 1st Ave, Coronado, CA 92118 | (610) 522-0217 | facebook.com/coronadocoffeeco
Open daily from 7am to 8pm

Parfait Paris | 7-minute drive, 27-minute walk
Located on the ferry landing with a chic, minimalist atmosphere. Try the crème brulé latte with macarons. The Nuttellacciatto is like a mocha, but with Nutella, and the affogato includes a scoop of gelato with a single shot of espresso on top. A selection of full-leaf teas rounds out the menu—try the ciao bella, a delicious blend of herbs.
1201 1st St #104, Coronado, CA 92118 | (619) 819-7694 | parfaitparis.com | coronado.parfaitparis.com
Open daily from 8am to 9pm, and until 10pm on Saturday and Sunday

Lofty Coffee | 13-minute drive
For this one you'll have to venture off the island, but it's worth it for this solid SoCal experience. Try the Little Italy location and step into a happening city hub. Lofty roasts its own beans, know for impeccable brews. In addition, organic juices, house-made nut milks, fresh baked pastries and more make Lofty Coffee an elevated experience.
444 W Cedar St, San Diego, CA 92101 | (760) 230-6747 | loftycoffee.com
Open daily from 7am to 4pm