Celebrating Cinco de Mayo in Coronado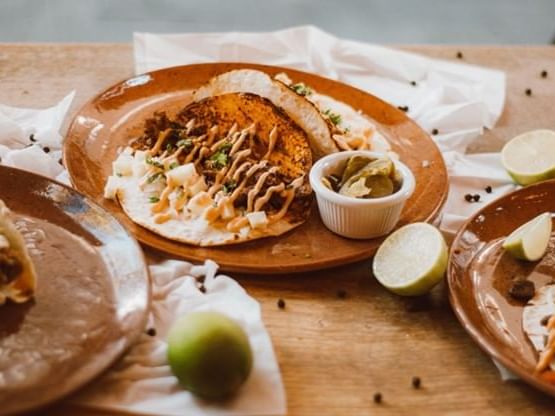 Cinco de Mayo is here and we are celebrating with the Mexican sips and bites on the island. Coronado is lucky to have a variety of restaurants that feature delicious and authentic cuisine. From beachside taco shacks to local take out spots, we've rounded up the best places to get festive for Cinco de Mayo on the island:
Miguel's Cocina
The first Miguel's Cocina opened in 1982 and has remained a local staple ever since. Since opening, Miguel's Cocina has maintained a commitment to artisan cuisine, which is reflected in their handmade tortillas, fresh salsas, and colorful chips made daily-- and we can't forget their famous jalapeno white sauce. They now have 6 locations throughout San Diego county-- including one in Coronado, just steps from your guest room! Indulge in all their famous menu items, including their popular fish tacos, and hand-shaken margaritas.
Beach Taco Shack
Located on the sand and steps from the crashing waves, Beach Taco Shack is a fun bar and taco spot in an unbeatable environment. Popular with locals and tourists alike, this spot features live music, great drinks and delicious tacos. Make your Cinco de Mayo one to remember by spending it with great food just steps from the famous Coronado waves. Be sure not to miss their shrimp tacos and famous piña colada!
Serranos Coronado
Serranos has its roots in Puerto Vallarta, Jalisco, Mexico, where they opened their first family restaurant in 1975. After over 30 years of perfecting their dishes and developing a passion for customer service, their family decided to open Serranos Street Tacos in San Diego. Serranos Coronado is a result of their family's hard work and dedication, and features quality and authentic Mexican flavors. Highlights include their Fish Tacos, Carne Asada Tacos, and famous margarita.
Claytons Mexican Take Out
Clayton's Coffee Shop has been a Coronado staple dating back to the 1940s. Their famous Pick Up Window and Coffee shop offer an array of coffee drinks, pastries and breakfast options-- but Monday through Friday they also offer Mexican Takeout. Their large menu features breakfast options, tacos, burritos, sides and more. Their most popular dishes include their Breakfast Burrito, California Burrito, and Rolled Tacos.